FRONT PORCH PORTRAIT PROJECT: #LoveThyNeighbor thru Covid-19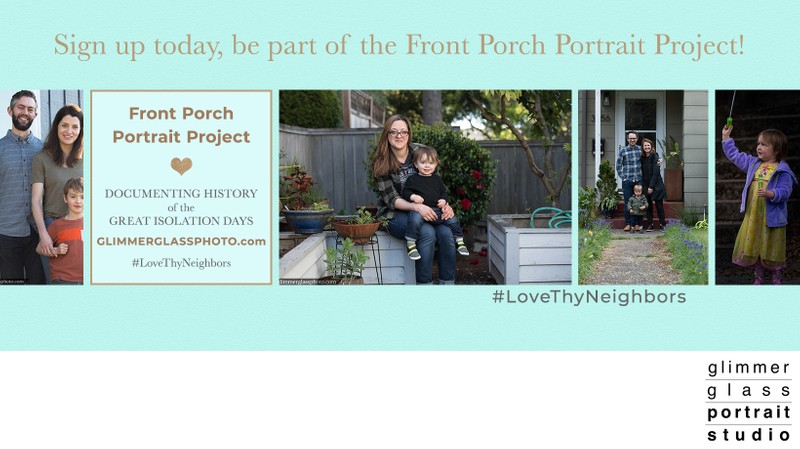 GOAL:
To create a journal to reflect many personal journeys through the Covid-19 days of isolation. Documenting in photos of families on their front porches and using their words in text about their experience. To record these isolation days for historical record in order to look back on them and recall the strengths and weaknesses experienced. To use these recorded memories as a gift of wisdom for future obstacles.
The publication will be on Issuu, a digital platform for creating books and magazines. It reads clearly and is fun to flip through on full screen. You will also be able to order a hard copy there if you'd like one for your family library.
Here's an outline of the project, I hope you will join.
HOW I'M DOING IT:
A) I'll come to you, take a photo of you and your household on your porch (or yard or garden)
B) I'll also ask that you please write a few words or a few paragraphs about your time "staying home" -
• how you have been getting through this isolation period.
• What are the things that have passed by as you waited this out,
• What have you been looking forward to that has been cancelled or postponed?
• How did you celebrate birthdays? Anniversaries?
• What has changed in your heart? What have you discover about yourself?
• Did you work on new skills?
• Did you change up your house inside with paint? move around furniture?
• Were you well, anxious, calm?
• etc etc
The final intention is to be in your voice about your personal journey through these days, about you, about us, about our neighborhood.
You will receive a digital copy of this image as a thank you for participating in the project when you submit your words and your model release that will be required for me to use your image in my publication.
HOW YOU CAN GET INVOLVED:
fill out and submit the form to let me know you want to participate - specify what date and time to take the image.